The Greatest Photographs Ever
The following filler column is to keep everyone happy while I take care of slightly more important issues in rea life. Enjoy and I shall return...sometime...
While I was taking in my piece of heaven in the 5th Annual CWF Rumble a couple of weeks back, another piece was being handed out to a crowd of rabid fans up north. By all reports Kenta Kobashi and Samoa Joe put on one for the ages in one of the greatest atmospheres you could ever want. I'm no ROH mark by ANY means, but from everything I've heard, this match was indeed something very, very special. You better believe I'll own that sucker on DVD but in the meantime, I was checking out some photos from the show which brought me to this beauty:
Kobashi entering the ring for the first time EVER on American soil, being covered in the traditional Japanese streamers with the beautiful balcony structure behind him. Just an awesome shot. Which reminded me of a recent thread on the DVD board covering just that, the greatest photographs in wrestling history. The problem with "wrestling" and "great photographs" is it's really tough to get a GREAT photograph in wrestling because so much of it seems sooooo...uhhhh...posed...if you know what I mean. Each and every week in SI and ESPN (the Magazine), they have those 2-3 pages at the start of the mag of just some incredible jaw-dropping action shots from the week before. If you compare those weekly shots to wrestling's "greatest", it's pretty apparent that wrestling photography isn't quiet as gripping. Thankfully, once in a great, great while, something special will come along. And now that someone else has done the work, I'm gonna go and thieve my personal favs from the DVD and post them in this special edition column. For the record, everything I've selected is a true photograph, NOT a screen cap as some chose. So check it out...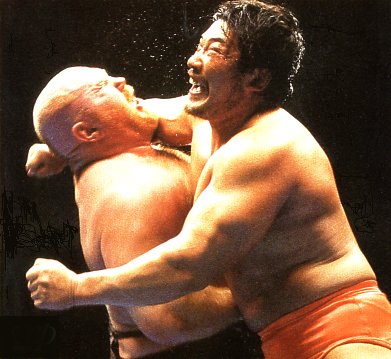 Kobashi's lariat on Vader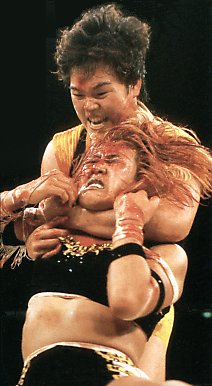 From possibly the greatest, most intense women's match ever, Kandori vs. Hokuto - DreamSlam I.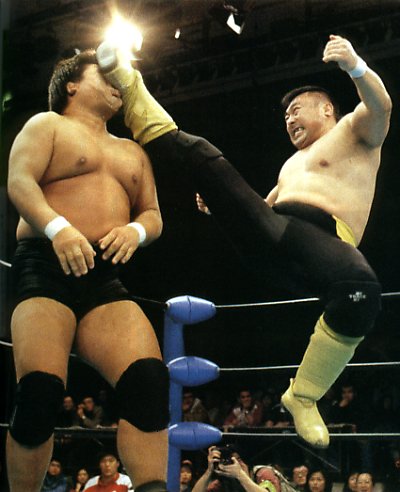 Kawada sandwich
Mick Foley from the King of the Death Match.
A picture tells a 1,000 words...Dynamite Kid and a young Chris Benoit some 20 years ago...
Quiet possibly the best thing to come out of the WWE in the past year is this photo.
Simple dramatic shot of Tenzan, head down and emotionally defeated with the New Japan logo hovering above him...
Streamers = emotion as CM Punk lies covered in them in one of his final ROH appearances.
The classic shot of an unmasked and crazed Jushin Liger during the match with Great Muta.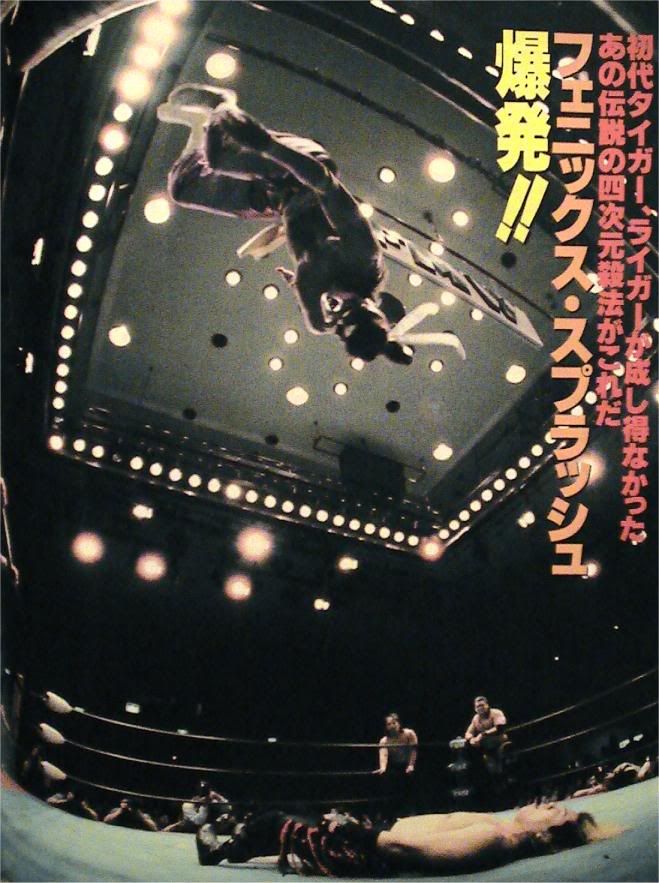 An incredible artistic poster shot of Hayabusa flying taken with a fish-eye lens apparently.
The match that produced the WWE's most memorable images from 2004.
Not THE shot of WrestleMania III, but it still tells ya all ya need to know.
The best Horsemen ever, off a PWI photo shoot.
Picture-perfect German suplex by Takayama on Tenzan.
Nagata stands tall after IWGP title defense #10
Yes, THAT suplex (Williams-Kobashi).
I have no idea, but WOW.
The ultimate shot of "the champ".
Just a personal favorite for some of my favorite ring gear ever, as worn by Mariko Yoshida.
Let's finish it up with some of my personal favorite magazine cover shots ever:
Mutoh. Triple Crown and then some.
An awesome collage that summed up the dream coming true (Plus, I'm insanely biased cause I was there).
The most beautiful title belt ever, held by it's defining champion shortly after the coming of age match (against Hennig at SSlam91).
The unfathomable dream cover that came true for every smart mark in the world.